5 Most Popular Undergrad Entrance Exams You Should Not Miss!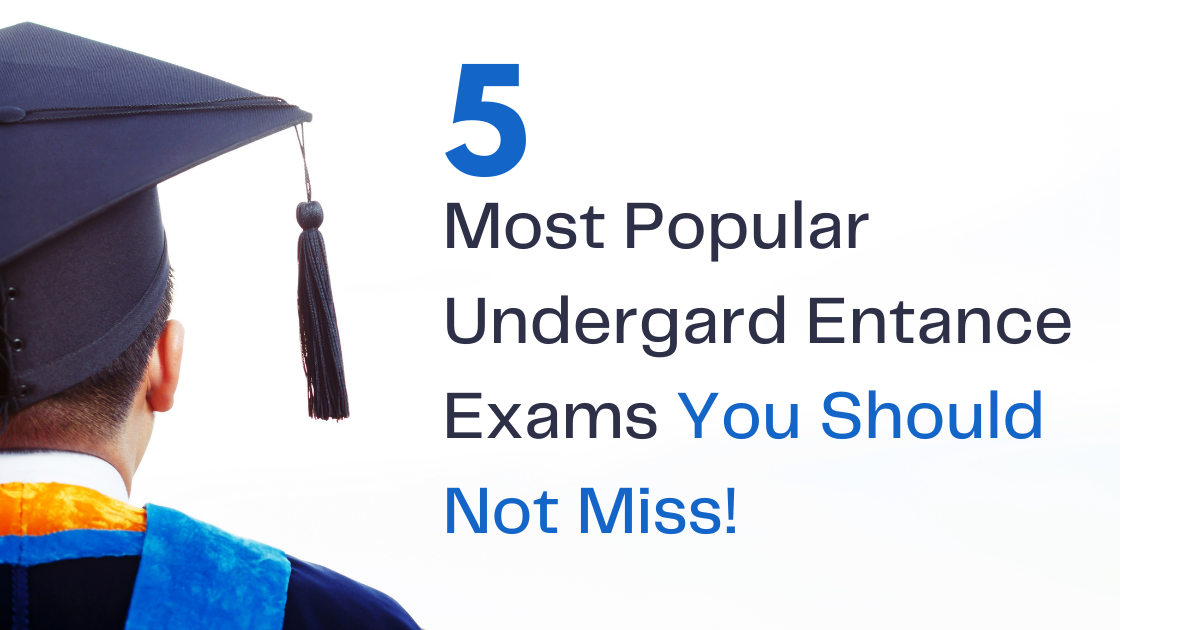 India's top institutions need students to undergo a rigorous selection procedure before getting admitted. This is because academic excellence is highly valued in most top Indian courses. As a result, students must meet exceedingly high academic expectations. Several combined admission tests are used in Indian schools for the same reasons. They act as a stepping stone for students to get admission to the best universities for their desired degrees. Here is a list of some popular undergraduate entrance exams to get into some esteemed Colleges/Universities.
CUET
The Christ University Entrance Test is a test conducted by the noted Christ University in Bangalore. This test allows students to pursue courses such as B.B.A., B.com, B.A (Economic Hons) etc., after completing their 12th standard. After clearing the exam, a student has to go through a micro presentation and a personal interview, in order to acquire admission to the university for the significant courses it offers.
NPAT
The National Test for Programs after Twelfth is the entrance test conducted by Narsee Monjee Institute of Management Studies. It is to be cleared by any student who wishes to get admission into UG programs and Integrated Degree Programs such as B.B.A., BCom Hons, B.Sc. Finance, etc. It is important for a student to have passed 12th class with 60% or more aggregate marks, and with Mathematics or Statistics as one of the subjects.
SET
The Symbiosis Entrance Exam is an exam held by the Symbiosis International University in Pune. It is a private institute for higher education that offers the students multiple courses such as B.Sc. Economic Hons, B.B.A., etc. It is an online exam that is applied and conducted online. It helps the students attain admission to the Symbiosis institute which is situated in Pune, Noida, and Nagpur.
IPMAT
This entrance exam called Integrated Programme in Management Aptitude Test is conducted by IIM Indore every year to allow candidates who have cleared their 12th standard, to pursue management courses. IIM Indore offers an exclusive management course to the students- Integrated Programme in Management, which covers both B.B.A and M.B.A. It is a five-year-long course in which the bachelor's and master's are completed together after getting admission by passing the IPMAT test.
St. Xavier's BMS Entrance Test
St Xavier's College, Mumbai conducts the Xavier's BMS entrance test for admission into Bachelor of Management Studies (BMS), Bachelor of Arts (Mass Communication & Journalism (BA MCJ), and Bachelor in Mass Media (BMM) programmes. The selection criteria give 60 per cent weightage to the entrance exam score and 40 per cent to the applicant's performance in Class 12. The entrance test is conducted online.
Wrapping Up

These undergraduate entrance exams are quite beneficial for students, which they can go for after completing their 10+2 or after graduation. They help you land in some of the most prestigious universities and institutes to pursue great degrees. If you are someone who seeks to pursue a course that is covered by any of these entrance exams, then checking out PrepperLearn would be highly recommended. Having the best professionals under one roof, PrepperLearn gives wings to your dreams!