ACCA vs. CA: What's Better for Your Future?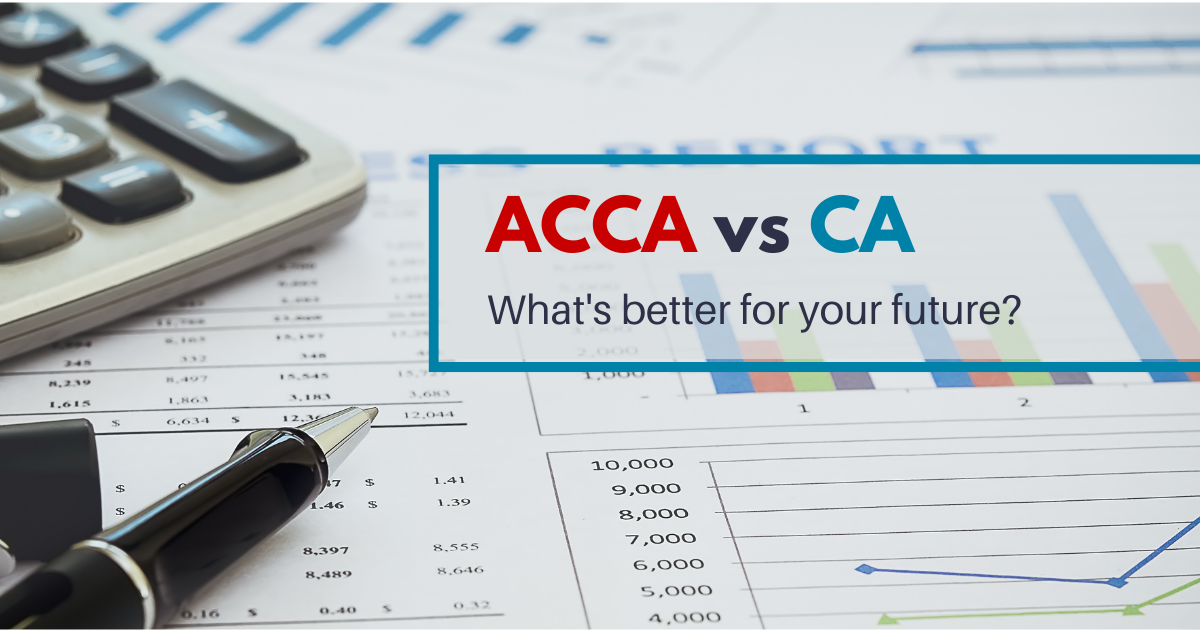 If you wish to pursue finance, auditing, and accounting as a profession, you have most likely come across the terms ACCA and CA. These are the two most searched courses among commerce students. But the most prevalent dilemma students still face is: Which one should I pursue?
You may also be curious about the difference between ACCA and CA, their duration, flexibility, and recognition. Don't worry! Through this article, you will finally be able to decide which course is the better choice for you. So first, let's find out more about ACCA and CA.
ACCA
ACCA, or Association of Chartered Certified Accountants, is a globally recognized body of certified accountants recognized in nearly 181 countries. Established in London, ACCA is one of the world's largest accounting associations and is known to uphold the highest ethical and professional values in Accounting and Finance. If you decide to pursue ACCA, you can start your career with an MNC or any Indian firm working with international clients. Australia, Ireland, Canada, the UK, and many other countries accept ACCA-qualified professionals.
CA
In India, Chartered Accountants are the only authorized individuals who can audit financial statements in the country. CA professionals are renowned for their expertise in accounting, taxation, corporate law, and more. Although CA is considered one of the toughest courses in India, it has no limit on age or number of attempts. Of course, if you successfully crack the CA exam, you have a range of career options. You can become an internal auditor for an audit firm, a local company, or MNC. You can also join local banks as a financial and legal mentor or even start your own practice.
The difference between ACCA and CA
Let's take a look at a more head-to-head comparison of ACCA and CA:
Comparison Basis
ACCA
CA
Recognition
Global
Only India
Certifying Body
Association of Chartered Certified Accountants (UK)
Institute of Chartered Accountants of India (ICAI)
Course eligibility

● You must have at least a Senior Secondary (10th) or equivalent level of education with Mathematics (65% marks in at least 2 subjects and >50% in the others) or a UG degree in Commerce.

● Doesn't require work experience to start with the qualification but requires 3 years of practical experience required to be completed before becoming a member.

● You must have passed Class 12th (60%-65% in Math and English) and 12th (65% in Accounts and English) standards from a recognized board.

● Doesn't require work experience to start with the qualification but requires 3 years of articles to be completed before becoming a member.
Which is the better choice ACCA or CA?
Well, it's tough to choose the absolute best among the two most prestigious degrees in Accounts and Commerce. CA is considered the tougher of the two as the exam pattern requires you to clear an entire group in a given attempt. You should choose CA if you are aiming for a career opportunity by setting up a practice in India. However, ACCA can offer you a better corporate career prospect both locally and abroad as you gain knowledge of UK laws, GAAP, and IFRS and CA subjects.
The final choice rests with you, but hopefully, these differences can help you decide which path to take for a successful career. If you want to pursue ACCA or CA under the guidance of industry professionals, be sure to check out PrepperLearn today!